Unprecedented Times, Unprecedented Authorizing - COVID-19 Blog Series
The worldwide pandemic, COVID-19, is changing the way that DC PCSB will hold schools accountable and how school leaders serve students on a day-to-day basis. On March 11, 2020, Mayor Bowser declared a state of emergency in the District in response to COVID-19. It's important that we as a city have a unified response to this health emergency. Following this announcement, DC PCSB worked in collaboration with DCPS, DME, and DC Health to ensure that we are meeting the challenges facing students, families, and schools.   
During this unprecedented time, schools across the District are closed until April 24 to combat the spread of COVID-19. As DC PCSB works to navigate through this rapidly changing situation, we want to be transparent around the challenges we are facing as an authorizer. 
This blog series will cover these topics but are not limited to:
From the Classroom to Distance Learning For Early Grades
 
In response to the COVID-19 pandemic, DC Public Charter Schools quickly shifted student learning from the classroom to home-based learning. This new educational experiment is already leading to learnings around best practices. But in addition to developing distance learning programs, schools had to continue to provide essential services such as breakfast, lunch; provide groceries; distribute mobile hotspots, and deliver mental health support to students. (We will cover the challenges with internet access and laptops in a future blog.)    
So what does distance learning look like for students in grades PK-K?  
Public charter schools serving early childhood grades are using a variety of methods to educate students while school buildings are closed. Schools are primarily using one of three ways to teach students: Learning Packet Instruction, Web-Based Instruction, and Multiple-Modality Approach to Instruction. This is the primary form of instruction for schools serving PK through K students. The learning packets align with each school's educational program and curriculum. Frequent teacher check-ins by phone or text are commonly supporting this approach. 
AppleTree Early Learning PCS sent learning packets home with families that include:
A recommended daily schedule on how to structure the student's day;

A

weekly learning calendar

; and,

A package of school supplies that has crayons, pencils, glue, etc.
The 20-day calendar for PK-K learning at home includes:
A daily activity (Monday – Friday) that focuses on literacy, math, social-emotional learning, to name a few.

Dates for optional class meetings. These meetings allow students to interact with their peers virtually.

Information about the movement videos shared three times a week on CLASS Dojo, an online platform that keeps families up to date on student progress and classroom happenings. This is an opportunity for students to see and learn from their teachers.  
Educators working with and supporting young learners are trying a lot of methods to make sure students stay engaged, and families feel supported during this challenging time. Jamie Miles, Executive Director at AppleTree Early Learning PCS, shared the importance of the network's belief that families should have flexibility with their time, during a webinar DC PCSB held. Although students have at least four daily activities to complete each week, families are not required to log on or communicate with their teachers at a specified time. They want families to do the lessons with their children at their own pace and when it works best for their daily schedules. 
Leaders at Capital City PCS – Lower School (CCPCS) also sent a calendar home for families. The calendar: 
Suggests the amount of time families should spend working on each activity with their young learner 

Includes a list of free, at-home learning activities ranging from virtual field trips, children's books on COVID-19, STEM activities, and more. 
Moreover, public charter schools have implemented distance learning plans for every student. At DC Bilingual PCS, students with disabilities and English language learners were given packets tailored to the students' academic goals and/or provides support to assist with learning. And they are also holding related services and IEP meetings using Zoom or Google Hangouts.   
Learn more about each school's early childhood distance learning programs and view resources, including the learning packers, by clicking on the links: 
Distance Learning in Grades K-8: Arts, Dance, and Robotics Electives Continue Virtually
As DC PCSB continues to monitor the pandemic, educators are working to figure out the most effective ways to teach and engage students in grades K through 8. Our review shows that distance learning for students in these grades looks different from school to school. Some schools are distributing learning packets and providing supplemental instruction items online.
Educators at Center City PCS (CCPCS) issued students learning packets and a library of learning materials to complete based on the weekly calendars. Each packet includes a weekly calendar, core curriculum work, and enrichment activities in:
Art

Dance

Music

P.E.

Theater
Students are also asked to keep a diary or journal to record their thoughts or drawings.  
In theater class, students at CCPCS in grades 5 through 8 create a fictional cartoon character, learn play production techniques, and apply the skills to create a play. Students are expected to complete all work assigned at their own pace. 
While at Digital Pioneers Academy (DPA) PCS students must arrive on time to Remote School (R-School) wearing their uniforms. Scholars wear their DPA polo or shirt with appropriate legwear and are required to attend each class on time. 
Scholars receive information about classes and assignments on Google classroom and attend classes on Zoom, a video conference platform already installed on DPA issued Chromebook. When class begins, scholars are expected to log on to Zoom to be marked present. After three minutes, students may not be able to join the class. Find more information on DPA's R-School here. DC International PCS is also using Google classroom and Zoom for distance learning. Learn more here. 
E.L. Haynes PCS has broken down learning materials for each of their campuses weekly since the COVID-19 shutdown. Students must complete and turn in each week's activities to the teacher by the following Monday. Learn more about their Home Learning Plan and Resources for their K through 8 students here. 
The students in grades 5 through 8 at E.L. Haynes PCS are given activities for ELA, Math, and Science. Students are also continuing their elective classes in Art, Drama, Robotics, and more. 
Moreover, Washington Latin PCS middle school students have two to three classes daily. Educators at Washington Latin PCS are supporting students in these courses by offering live cast tutorials on Zoom between 3 p.m. to 4 p.m. on every day class is in session. Classwork and exit tickets for all classes are due nightly and the work is graded based on completion. Learn more about Washington Latin PCS resources here. 
Learn more about each school's kindergarten through 8th-grade distance learning programs and view resources, including the learning packets, by clicking on the following links: 
Continuity in the Midst of the Digital Divide: Navigating Device Procurement and Internet Access
The abrupt shift to distance learning, triggered by COVID-19, further exposed inequities facing millions of students nationwide. In the District of Columbia, the story is no different. 
The digital divide – the gap between people with functional access to digital and information technologies and those with little to no access at all – is disproportionately impacting at-risk students. Given that a student is deemed at-risk if they qualify for the Temporary Assistance for Needy Families program or the Supplemental Nutrition Assistance Program; were identified as homeless or in foster care; or are high school students at least one year older than the expected age for their grade, one thing is clear: lack of access is particularly challenging for students most at risk of academic failure.
In response to Mayor Muriel Bowser's declaration of a state of emergency in the District, on March 11, 2020, DC Public Charter Schools moved swiftly to ensure students continue to learn while at home. Nearly every public charter school prioritized an assessment of technology device needs within their respective school communities, in conjunction with an assessment of on-hand inventory. While some public charter schools – such as KIPP DC, Ingenuity Prep PCS, and Washington Leadership Academy PCS – maintained a 1:1 student-to-Chromebook ratio, prior to COVID-19, several other public charter schools found themselves in unchartered territory, working urgently to secure laptops for students in need.
However, the digital divide is one that extends to connectivity in addition to a lack of access to a laptop. Shortly after school buildings closed and laptops were distributed, public charter school leaders collectively identified an urgent need to supply students with hotspots all across the city. Whereas some students reported a complete lack of access to the internet, others reported issues pertaining to weak connectivity, insufficient to meet the needs of a live classroom session on Zoom, for example.
To support public charter school leaders, DC Public Charter School Board Executive Director Scott Pearson facilitated a $250,000 purchase of 1,600 T-Mobile hotspots for students who lacked WiFi, in late-March.
Citywide, Mayor Bowser announced a $1 million fund to help close the digital divide for students in public and public charter schools across the District. The DC Education Equity Fund, in partnership with Education Forward DC and the DC Public Education Fund, is designed to get District students access to devices and internet access amid COVID-19. Additionally, funds will be set aside to establish a citywide tech support call center for students, families, and teachers.
As public charter school students embark on their fifth week of the new normal (i.e, distance learning at home), public charter school leaders continue to evaluate and tweak all aspects of curriculum, instruction, and support to meet the needs of students better. 
Given that the school year is ending early, public charter schools have shifted their focus to developing streamlined tech support systems to address inevitable issues such as device repair and looking ahead to the summer learning. As an organization, the DC Public Charter School Board will continue to prioritize the facilitation of best practice sharing within the sector via weekly webinar offerings. Regardless of the circumstances, we continue to remain laser-focused on our goal of ensuring that students and families in Washington, DC have access to a quality charter school education.
Learn more about connectivity in the District by clicking on the following links: 
"Connectivity in DC: Bridging the Digital Divide" - A DC PCSB Webinar 
Public Connectivity Resources 
Here's how residents in the District can stay connected during the COVID-19 outbreak: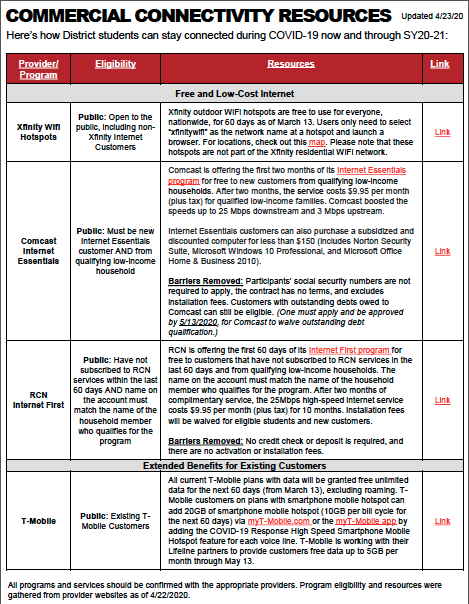 Distance Learning and Graduation for High Schoolers
As public charter high school students begin week seven of distance learning, their 'new normal' continues to shift.
Virtual learning for public charter high schoolers has a common theme: materials are provided to students through Zoom, Google Classroom, Canvas, and other similar platforms. Students are expected to complete and turn in assignments daily.
At the District of Columbia International High School (DCI), students monitor their emails for assignments, attend classes specific to the day, and complete any assignments or classwork as assigned. Families of the seniors are now receiving emails around college-related transition and graduation information. See DCI's distance learning schedule, expectations, and more here. Similar to DCI, educators at Thurgood Marshall Academy PCS (TMA), and Washington Leadership Academy PCS (WLA) are sharing student assignments and instructions on Google Classroom.  
As a part of high school graduation requirements, educators work with students to ensure that they're college or career ready upon completion. Some students take Advanced Placement (AP) courses to get a feel for intro-level college classes and can receive college credits if they pass the AP exam. Fortunately, students are still able to take their 2020 AP exams online (source). The test will be 45 minutes, much shorter than the average two to three-hour exam and it will be open book and open note for students.
Class of 2020
Graduating from high is among one of life's greatest milestones. Through a DC PCSB survey to high school leaders, results show that most schools have not yet decided to cancel, postpone, or move forward with having a graduation ceremony.  We will share information about the graduates and ceremonies in a future blog. 
Moreover, maintaining the senior year experience is important. Here is how one school is keeping a sense of community for seniors virtually:  
Like graduation, students and teachers at Friendship PCS - Technology Prep and Friendship PCS – Collegiate Academy cannot be together physically to fulfill a tradition: College Signing Day. But despite social distancing rules, educators have found a way to complete the tradition. On May 1, both campuses will host a virtual College Signing Day where families can connect virtually to celebrate the class of 2020's accomplishments. The virtual signing day will include graduates heartfelt videos, testimonials, and college acceptance announcements. Other schools participating in a virtual College Signing Day include Cesar Chavez PCS for Public Policy – Parkside High School and DCI.
Learn more about each school's distance learning plan below:
Adult Education in the Face of COVID-19: Being a Parent, Teacher, and Student During a Global Pandemic
Education, as we know it, has shifted entirely online due to COVID-19. The transition has been challenging for PK-12 students as they navigate completing classwork at home and finding ways to maintain a school-like environment. Still, for adult students, the shift has affected far more. 
Pre-pandemic, some adult students were juggling family responsibilities, work obligations, and their education. Students were enrolled in either morning or evening classes to accommodate their schedules. 
Now, COVID-19 has turned Washington, DC's adult learners' world upside down as many adult students are now juggling being a parent, a teacher to their children, a teleworker or essential employee, as well as a student. 
We talked with students at Goodwill Excel Center PCS, Briya PCS - Adult Education, and The Next Step PCS to learn more about how they're navigating this 'new normal.' 
Here's what they had to say: 
How are you adjusting to the new normal that is COVID-19?
Ms. Chawntavia Watkins, Goodwill Excel Center PCS: I am adjusting in many ways. I'm married and have four kids, so our space feels small when we are here all day and night. School used to be a place I could go to find peace and quiet and focus on me. Now, I'm trying to find that in my home too. 
Griselada, Briya PCS - Adult Education: [I'm] just trying to stay home and be safe [so I do not come in contact with the virus]. 
 Ronica Harris, Goodwill Excel Center PCS: Everything is so different from it being all virtual. I am getting used to being entirely in online classes. I don't mind the online structure; it just took a moment to get used to [the new format]. I like it because I can work at my own pace and take breaks when needed, and for me, this is important.
Anonymous Student, The Next Step PCS: I stay at home and follow all the doctors' recommendations to stay healthy.  
What does distance learning look like for an adult student?
 Ms. Chawntavia Watkins, Goodwill Excel Center PCS: As an adult student, distance learning looks like staying on a schedule. Most days, I'm okay if my wife can help with the kids and their schedules. But, if I must help with the kid's work, then I have to work on my classes after they're finished with school. It's hard to focus on your schoolwork as an adult student because your kids come first. So, distance learning looks like checking into your live classes and then knowing that you will have to go back later in the day or at night to finish your work and review anything you may have missed. It also looks like making sure you are always checking in with your teacher and your coach so they know what is going on with you at home. They're always there to support us, so it's important we keep them updated. 
Griselada, Briya PCS - Adult Education: I can't give my full attention to my studies. I prioritize my children.
Ronica Harris, Goodwill Excel Center PCS: For me, I am in the foster care system and recently moved to a new foster home. I am trying to stay focused and balance my responsibilities with outside distractions still going on. I try to stay on schedule with my classes as best as I can, but I also find myself doing work at night, so I can help take care of other things during the day, too.
What are some challenges you are facing while learning from home?
Ms. Chawntavia Watkins, Goodwill Excel Center PCS: Having all my family in the house and internet connectivity are my biggest challenges. We're all using Wi-Fi and devices to access school, TV, and work. Sometimes we share devices or Wi-Fi and have to be patient with the speed. My teachers have been great and flexible with any work turn-in dates and times and understand the different responsibilities. It's been great to be able to login to my classes at night when everyone is asleep to review my classes then complete and turn in my work. 
Anonymous Student, Briya PCS - Adult Education: The first few days were tough to get online. We have the internet, but I didn't understand the program from [my eight- year old's] school. I needed Annie [my Briya teacher] to help explain how to get my daughter online. Now my daughter knows how to log on, talk to her teacher, and upload homework all by herself.
Ronica Harris, Goodwill Excel Center PCS: Some of the challenges I have faced while learning from home have been around not getting the face to face instruction and help. I'm able to go into tutoring hours and office hours online with my teachers, but I miss the in-person interaction and the actual smart boards and papers in the classroom.
Anonymous Student, The Next Step PCS: The biggest challenge I'm facing is that my stepfather had the virus and was in the hospital. My mom is still working, so I have to take care of my little sister while my mom works. My little sister requires all my attention, and that is why I have problems doing my school activities.  
Has your employment situation shifted during the pandemic? How are you navigating this change?
 Ms. Chawntavia Watkins, Goodwill Excel Center PCS: I am a barber, and my employment has shifted quite a bit as I cannot go into the shop anymore. This has been a change because I am not bringing in a stable income like I was before. We're navigating the loss of my job, between my wife and me, by making some changes in our lifestyle. My wife is also not working and is enrolled in online college courses full time. So, we are all focused on school right now in hopes that after this is over, we can find better employment.
 Anonymous Student, Briya PCS - Adult Education: My husband lost his job. Like everyone, we are worried. We are applying for unemployment benefits.
Ronica Harris, Goodwill Excel Center PCS: I was not employed pre-pandemic and continue to be unemployed as I am focused solely on school. I plan to go to college in the fall and am currently working on college applications.
Anonymous Student, The Next Step PCS: I've been unemployed since the state declared non-essential businesses to close. I'm navigating this change [by] helping my mom with everything at home since I can't help her financially. 
What is it like having to parent and teach your children while you are also working, learning, and parent/teaching from home?
 Ms. Chawntavia Watkins, Goodwill Excel Center PCS: This has been a lot! We have four kids: 13, 11, 9, and 6, so they are all in different grades. It has been frustrating at times when I must go and find my notes on some of the work that my kids are doing and almost re-learn some of the work. My 13 and 11-year-old are doing work that I am more familiar with. But my 9-year-old and 6-year-old need a lot more focus and attention. I will often have us all work together so they can see we are all working.
 The good thing is, I use my wireless headphones to listen to my classes if I can while roaming around the house and working with my kids. It has been interesting to see my kids learn, especially on the same platforms I'm learning on like Google Classrooms. 
 Anonymous Student, Briya PCS - Adult Education: It is stressful and always busy. Recess is hard. We're scared to go outside for walks because we don't have enough gloves, masks, or hand sanitizer for the family, but my children play for 30 minutes in the garage for playtime.
Anonymous Student, The Next Step PCS: I don't have children, but I have a three-year-old sister that I have to teach while focusing on my lessons. It's really difficult because she wants to play when I try to teach her something.
What else would you like to share? 
Ms. Chawntavia Watkins, Goodwill Excel Center PCS: It is a new world doing school from home and having my kids learning from home. I have realized that structure is the most important. Right now, I am in brainstorm mode for family activities so that we can keep everyone on the same timeline, and we know what everyone is doing at the same time. Sometimes everyone is on their schedule, and that can be exhausting.
Ronica Harris, Goodwill Excel Center PCS: I have realized I can work independently more than I thought. I also think this time has allowed me to focus on my schoolwork and my next steps. I am really determined to go to college.
View the distance learning plans in adult education here:
Carlos Rosario International PCS Distance Learning
Maya Angelou PCS - Young Adult Learning Center Distance Learning
The Next Step PCS Distance Learning
Students, Staff, and Alumni at Alternative Public Charter Schools Step Up to Serve the Community in Big Ways

During this unprecedented time, we want to be transparent around the challenges and successes, as an authorizer, as we navigate through this rapidly changing situation. 
At alternative public charter schools, it is key for educators to maintain a virtual community and understand each student's situation to fully support them during this time. 
We talked with LAYC Career Academy PCS (LAYCCA) to learn more about how they're supporting their students during the 'new normal.' 
LAYCCCA serves adult students ages 16 to 24. 
1. How has your school adjusted to the new normal that COVID-19 has brought to the world?
LAYCCA's personalized and blended learning approach allowed us to be ready for distance learning. Our teachers are proficient using Moodle, Rosetta Stone, Education Essentials, Khan Academy, ReadWorks, CommonLit Lynda, Teknimedia, Google Sites, and YouTube, for delivering lesson content and assignments to students.

To keep our students encouraged, our student support specialists, leadership staff and teachers frequently send students motivational messages. Also, the LAYCCA team shares photos and videos, exercise suggestions, and even humorous memes to keep in touch, practice good self-care and keep our spirits lifted. Encouraging a virtual sense of community is important for students and staff alike.
2. What are some innovative ways you are engaging your students in distance learning?
In addition to the mentioned learning platforms, teachers have also been able to utilize Google Meet, Zoom, WhatsApp, and regular phone calls to connect with students and provide goal check-ins, lessons, study groups, and tutoring. Some teachers have even begun creating YouTube playlist lessons for students to access as needed and at their own pace. Our Medical Assistant (MA) students have adjusted very well to distance learning and are even recruiting their own family members to practice taking body temperature, pulse rate, respiration rate, and blood pressure, to name a few.
 
3. What are some challenges you're facing doing distance learning with your students?
Challenges that students are dealing with come from environmental factors that prove to be limiting as they learn outside of the classroom. During these difficult times, some students have had to prioritize procuring income for their household or focusing on childcare above their own education.  While some students have been able to transition their typical school day and hours to an online environment, others have had to adjust to completing assignments and studying whenever they can find the time.  Some students have had to share the computer and internet access provided to them with other members of their household, further necessitating a more fluid academic schedule throughout the day and night. 
Some of our teachers and leadership staff have extended themselves beyond typical school hours to accommodate the schedules of some students in an effort to address these unprecedented needs.
4. How are you supporting students with their distance learning and in other ways? (e.g., meal delivery, online community building, mental health awareness)
During this time, LAYCCA has adapted to support students in several different ways.  We have scheduled two days a week (Mondays and Thursdays) where students can come to the school building to pick up food and hygiene supplies for themselves and their household. 
Additionally, they are able to check out a school computer and/or internet hotspot for their academic use at home during this time. We also do home deliveries to our students in Wards 7 and 8. Each of our students is assigned to a student support specialist that checks-in daily via text message, phone call, video call, or email to ensure the students' wellness.
Through our partnership with LAYC, LAYCCA has offered online community-building activities and has continued to offer online wellness programs such as video yoga sessions and cooking videos for student use. 
5. Are you still doing intervention work? If so, what does this look like in the new normal?
LAYCCA staff has been reaching out to adult students and parents of minors weekly in order to maintain engagement and provide students with distance learning instruction. Students are set up to continue working on skills in their personalized learning plans via various online platforms. SPED and general education teachers continue to collaborate and deliver specialized instruction and study groups according to each student's IEP goals via Zoom and Moodle. Students are continuing to receive related services (counseling) via teletherapy as prescribed on students' IEPs.
6.  Anything else you'd like to share.
 
Our Medical Assistant Program is reporting 100% online attendance.
● Dr. Brian Sevier has done an excellent job on engaging the medical assistant students during distance learning by making his virtual MA classes interactive from one-on-one meetings, to study groups and even having students engage their family members by practicing taking their vital signs.
Computer Refurbishing for School Community
● During this time of crisis, our young people stepped up in a BIG WAY. Career Academy students and alumni chose to tackle the work of refurbishing laptops for their school community. Their hard work will help ensure that all of our students have access to the technology necessary to meet their goals. The heart and perseverance these young people have demonstrated speak volumes of both their character and bright futures ahead.  

o A former student messaged us on one of our social media platforms and asked for ways to volunteer for our school! This warmed the hearts of all our staff. Chris has already helped on multiple occasions. He has created an inventory spreadsheet of all the groceries/hygiene items we have available for our students to pick up. He has also assisted in accepting and organizing large deliveries of bulk grocery items which will be given out to our students and alumni. We are amazed by his tenacity and graciousness.
Public Charter Schools Serve 10,000+ Meals in One Day
For a little over nine weeks, staff from public charter schools and volunteers across the district have been showing up to support students and families, in particular around providing meals during the crisis. As of May 11, public charter schools across all sites served 10,169 meals to families - the highest number of meals provided to families in a single day. 
There are more than 20 public charter school locations where all students can get breakfast, lunch, and sometimes dinner. 
At our April 29 Board meeting, staff from Friendship Public Charter Schools, Maya Angelou Public Charter Schools, and Capital City Public Charter Schools shared their meal distribution efforts and the impact that it has had on families during the crisis.
Educators at Friendship PCS (as of April 20), have served more than 14,500 meals to families. The Friendship Southeast Elementary and Middle School site has served roughly 3,000 meals alone. Families can pick up multiple meals at all their locations on Mondays, Wednesdays, and Fridays. 
Principal Lawery of Friendship Southeast Elementary believes their 'grab and go' food distribution has been an integral part of services that they provide to their families. 
Lawery adds, "we wouldn't be able to do half of the work without their [staff] dedication to our community."
In the coming weeks, Friendship Schools will start a meal delivery service that will allow them to serve an additional 2,000 families per week. 
Maya Angelou Public Charter Schools implemented their weekly Community Eats and grocery distribution service in response to the crisis. Community Eats is a 'grab and go' hot lunch provided to families, usually on a Wednesday or Thursday, at the school. Social distancing practices are used during pickups, and social-emotional counselors are available to families to talk with onsite. 
Grocery delivery to families consists of fresh produce, vegetables, fruits, milk, bread, and more. Educators at Maya Angelou PCS' are also awaiting the completion of their hydroponic garden so that they can distribute those home-grown crops to families and provide tips on how they can prepare them. 
Ms. Lamb says, "[distributing meals] is an opportunity for us to check in with our students, understand how our families are doing but also be of service to the community."
At Capital City PCS', the battle between the correct amount of food and frequency of distribution to families was a constant one, and so was their dedication to getting the numbers right. The original meal distribution guidelines required schools to give out one meal per family, which was challenging but eventually modified to accommodate families with multiple children. In early April, Capital City PCS served only 100 meals to families. As of April 20, more than 2,800 meals have been served to the community. Each Monday, families receive a full week's worth of meals each Monday, which includes seven lunches, seven snacks, milk, and fruit. 
Jonathan Weinstein, Chief Operating Officer at Capital City PCS, says that "[they] supplemented meals with fresh vegetables from our school garden. The team is also looking into adding a dinner component to our meals."
Weinstein adds, "We expect the need for meal distribution to continue over the summer. And we're glad to hear from OSSE that our and other schools will be able to participate in the Summer Meals Program without any expectation of a gap in meals for our families in our neighborhood." 
We are #DCcharterProud.
SY 2020-21 Student Enrollment Goes Virtual
Due to District-wide public health restrictions related to COVID-19, enrollment for the upcoming school year will look different for families. Schools are finding creative ways for families to learn about their programs. For example, Shining Stars Montessori PCS is offering virtual tours for families. Take a tour here.
When it comes to enrolling students for the 2020-21 school year, schools are using various platforms like DocuSign, DropBox, and online DCRV forms to collect required enrollment forms and residency documents.
Families matched with a school in the My SchoolDC lottery have until June 15 to complete enrolling paperwork. Families can find links to every school's enrollment information here.