DC Charter School Enrollment Increases by 11 Percent
Contact: Audrey Williams 
202-328-2748 
awilliams@dcpcsb.org
Washington, D.C. —
Student enrollment in DC public charter schools is 35,019 -- an increase of 11 percent over last school year's enrollment of 31,562, according to the DC Public Charter School Board (PCSB), which released the 2012-2013 unaudited enrollment numbers today.
"Every student in a charter school is there because his or her family chose that school," said PCSB Executive Director Scott Pearson. "This growth reflects the high demand for public charter schools by DC families. The Board's policies around promoting the creation and expansion of high quality schools have ensured that these families have more and more high quality options available to them." 
Four new schools opened in fall, 2012: Basis DC PCS, Creative Minds International PCS, DC Scholars PCS, and LAYC Career Academy PCS. Other public charter schools opened new campuses or moved to new, larger campuses, including Capital City PCS, Maya Angelou PCS, KIPP DC PCS, Meridian PCS, Inspired Teaching Demonstration PCS, Shining Stars Montessori PCS, Mundo Verde PCS, National Collegiate Prep, Richard Wright PCS, Next Step PCS, Bridges PCS and Eagle PCS. Combined these new schools and campuses created 1,600 new seats and contributed 47% of the sector's overall growth. 
Another 20% of the enrollment growth came from the expansion of available seats in high-performing schools designated as Tier 1 by the PCSB's Performance Management Framework (PMF). Meanwhile, there was a 10% drop in enrollment in the lowest ranked PMF "Tier 3" schools. 
"We are pleased that our continued emphasis on holding DC charter schools accountable for their performance is increasing the availability of higher quality public charter seats," said Brian W. Jones, PCSB Board Chair. "We look forward to the day when no DC family must choose to send their children to anything less than a high-performing school."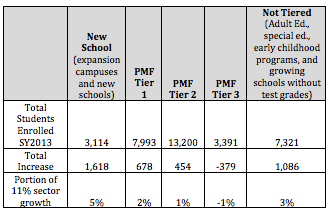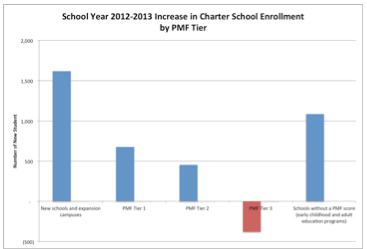 Across the charter sector, there was growth in all grade levels from pre-kindergarten to adult, but the most significant growth occurred in the elementary grades with 1,409 new seats and in grades 9-12, where approximately 1,000 new seats became available. 

The unaudited numbers are based on enrollment rosters submitted by all charter schools on October 5th. An official citywide audit, where each student will be counted, is being conducted mid-October through December. The Office of the State Superintendent of Education will announce the audited numbers once the audit is complete. 
About PCSB:

The DC Public Charter School Board (PCSB) is setting a national model for creating quality public school options through its rigorous review of new charter applications and effective oversight of charter school performance that is leading the transformation of public education in Washington, DC. PCSB currently oversees 57 public charter schools on 102 campuses serving 35,019 students living in every ward of the city. Learn more at www.dcpcsb.org. 
# # #