DC Public Charter School Board Releases School Quality Ratings
For Immediate Release
Contact: DC PCSB Communications
Phone: 202-428-5543
More Public Charter School Students Attend Top Performing Schools 
DC Public Charter School Board Releases School Quality Ratings
WASHINGTON, DC – A new citywide report shows public charter school quality continuing to rise. The report, released by the DC Public Charter School Board (DC PCSB), is a comprehensive look at education for public charter schools throughout the District of Columbia serving grades prekindergarten (PK) to 12 and adult programs. The results show students living in every Ward of the city are benefitting from attending top-performing "Tier 1" public charter schools.
Today's release covers schools serving grades PK through eighth grade.  DC PCSB will release results for high school and adult public charter schools in early November.
The 2016 School Quality Reports, also known as the Performance Management Framework or PMF, measure how well public charter schools prepare students for college or the workforce, improve student math and literacy skills, and perform on the state assessment in English language arts and mathematics.  The Reports also assess other metrics that measure school quality such as attendance and the percentage of students that re-enroll each school year.  Individual school reports may be found here.
"We are pleased that the highest number of students ever are receiving a quality education at PK-8 Tier 1 public charter schools this year," said Scott Pearson, Executive Director, DC PCSB.
The School Quality Reports score each school between 0-100, placing the school in one of three performance tiers. Tier 1 are top-performing schools, Tier 2 are mid-performing, and Tier 3 are low-performing. The Reports also include a description of each school's unique mission and vision and useful information to help prospective families search for schools. Additionally, the reports help current students and families evaluate the school's academic performance. 
"As more and more families choose DC public charter schools for their children, improving the already high level of quality across all of our schools continues to be our top priority," said Darren Woodruff, Board Chair, DC PCSB
School Achievement in Grades PK-8 
This year marks the 20th year of public charter schools offering students and families quality public school options in Washington, DC. And the results continue to show more quality PK-8 citywide public charter schools exist in every quadrant of the city:
Thirty-four PK-8 schools earned a Tier 1 rating based on their performance during the 2015-16 academic year.
Twenty-one schools received the top-performing rating for the first time.
Tier 1 schools are located across the city - in Wards 1, 2, 4, 5, 6, 7, and 8.
Twenty-one of the Tier 1 schools educate between 75% and 100% low-income students.
Students with disabilities represent more than 10% of the student population at 18 of the Tier 1 schools.
English language learners represent more than 10% of the student population at 10 of the Tier 1 schools.
Below are the 2016 School Quality Report results for PK-8 schools by Tier:
TIER 1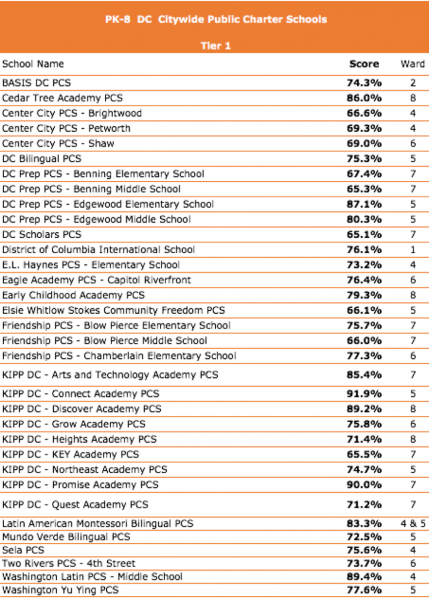 TIER 2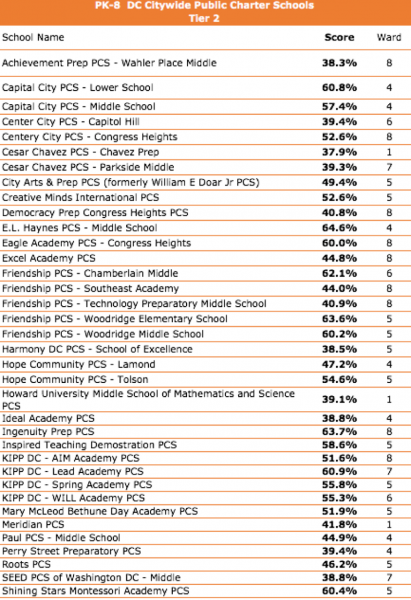 TIER 3

Prekindergarten Only Schools or New Schools*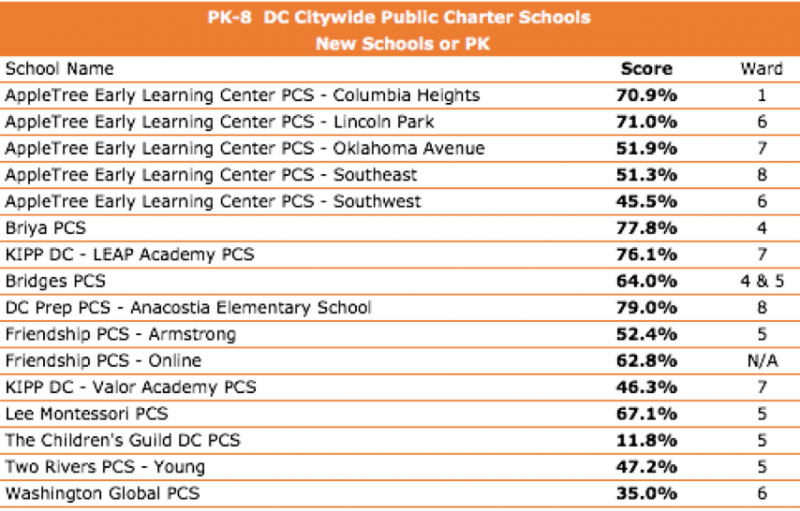 *DC PCSB's policy is to not provide a performance tier for schools in their first year or for schools serving only pre-kindergarten students.
 
For more information, including previous year results, visit our website. 
 
Join us on November 17 to celebrate the students and schools at the 20 Years of Quality Public Charter Schools event.  Also help us congratulate the schools and students using the hashtag #TIERific. 
###
About DC PCSB: The DC Public Charter School Board (DC PCSB) is setting a national model for creating quality public school options through its rigorous review of new public charter applications and effective oversight of public charter school performance that is leading the transformation of public education in Washington, DC. DC PCSB oversees 65 public charter schools on 118 campuses serving more than 41,000 students living in every ward of the city. Learn more at dcpcsb.org.