Globetrotting with Students at Statesmen College Academy Prep PCS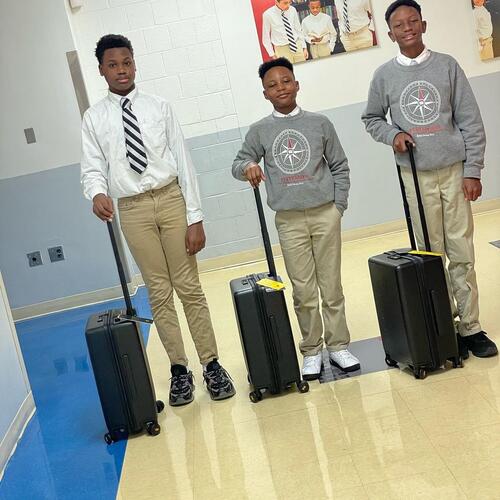 On Friday, April 7, some adventurous seventh and eighth graders at Statesmen College Preparatory Academy for Boys (Statesman Academy) will begin their journey to a destination more than 4,000 miles away from their home of DC. They will travel to Europe. 
These scholars are embarking on a 10-day trip of a lifetime which will include visits to Madrid, Paris, and London, England. They'll make stops at some of our world's most treasured landmarks and learn about their history. The students will get an opportunity to see the Eiffel Tower, The Palace of Versailles, Little Africa, The London Sugar and Slavery Gallery, and much more.
There are many places Statesmen Academy could have chosen to visit during their trip across the pond, but some may ask, why Europe?
Following in history's footsteps
It all starts with their ideals and who the students model themselves after-–Frederick Douglass, an ardent abolitionist, who despite being born into slavery, persevered and taught himself how to read and write.  He is someone that embodies the characteristics Statesmen scholars strive to emulate. 
One of the many places Douglass traveled to during his lifetime was London, where he lectured against slavery in the United States. Scholars will visit some of the halls he spoke in as they explore what Europe has to offer. 
To some, a trip across the world may seem out of the norm; however, traveling locally and internationally is ingrained in every Statesmen student's experience. 
The school has coined this experience as "critical exposure," where they take students through rites of passage like getting a passport and exploring the world. Shawn Hardnett, CEO of Statesmen, is the brains behind this program. 
Hardnett founded the academy in hopes of ensuring students had the same experiences who students from affluent backgrounds have. Growing up as a child from a poor neighborhood, traveling wasn't common. However, after traveling internationally, he realized if it wasn't for his school "there was a world out there that he may have never seen," shared Upper School Dean, Lenora Felder about the founder's motivation for creating the program.
The pandemic halts Statesmen's travels
When COVID-19 hit and changed our world, Hardnett's plan to help students travel was unfortunately halted. However, his plan was not lost. As things returned to a state of normalcy, Statesmen Academy began to enact everything they'd planned for students to do.
Since the pandemic, the students have traveled for college tours, camps, stayed in hotels, learned to use Visa gift cards, participated in etiquette dinners, walked the busy streets of New York City, and more in their quest to become responsible men. While students may not fully grasp how these trips will positively impact their future, they've all been meticulously crafted to prepare them for a lifetime of adventure.
Statesmen Academy is treating their trip to Europe with the utmost care and consideration. They recently invited an etiquette coach to help the students refine their manners for their upcoming trip. During the etiquette training,  Felder was asked what key areas the coach should focus on-–and mumbo sauce, a DC condiment staple, was the topic of much conversation. 
"Explain to them why they can't ask for mumbo sauce," said Felder. 
How is Statesmen funding their journeys?
With excursions to different parts of the country, paying for hotels, food, transportation, and now a trip across the world, how are the expenses being funded? From everywhere.
Statesmen has a development team that informs the public of what the school is doing, and requests donations. They also apply for grants, and even Felder's peers on her personal social media account fully support the cause. 
"We can say we have everything from organizations and corporations donating, to the auntie on the block who'd say 'I know where my money is going.'"
How do families feel about the trip?
With everything set in stone, and the trip happening in less than a month, how are families reacting? 
"They're a nervous wreck," said Felder.
Families are excited but also tend to show that excitement in the form of nervousness and concern. Felder went on to explain how the students' trips have helped prepare not only the boys, but the families too. 
"We took your son somewhere, you talked to him once today, and you're still okay." 
Even with their sons heading across the world, Statesmen Academy is committed to staying in touch. The school will use an app called PolarSteps, that allows families to track students, see pictures, and share the experience with their child. 
Before Statesmen Academy, many of these students had not had the chance to travel at all, and some of them have never even left the DC quadrant they live in, but now they'll be able to see places far beyond what they're used to--in a world that's bigger than their neighborhood block, a place that can change how they view that world. 
*This is part one in a multi-part blog series chronicling Statesmen Academy's European trip. Stay tuned for part two which captures the excitement of students as they discuss their trip, just days before they take flight.