Graduation Rates Tick Upwards at DC Public Charter High Schools
Graduation rates rose by 1.2 percentage points from the previous year to 72.9 percent, according to data released by OSSE. The District's graduation rate is 69.2%.
For four consecutive years, public charter high schools have consistently exceeded the four-year citywide averages for all students, including African American, economically disadvantaged, Hispanic, students with disabilities, and English language learners.
Additionally, six citywide public charter high schools graduation rates are above the national average of 83.2 percent. These schools have accomplished tremendous results.
High school graduation rates are also included on our School Quality Reports. The 2016 high school reports will be released on November 3.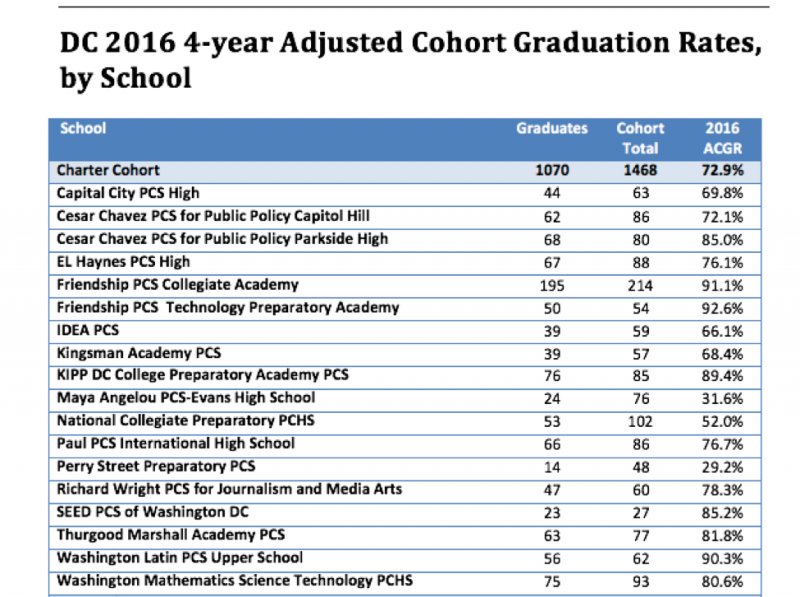 Schools Share Their Stories
Friendship PCS: Collegiate Academy & Technology Preparatory Academy
Friendship's mission is to develop academically curious and civic-minded scholars who are prepared to succeed in college and life. Providing a college-going school culture that annually achieves high graduation and college admission rates is essential to the fulfillment of our mission.
Friendship PCS believes that a selective college-preparatory education should not be limited to zip code or income. That is why this year, Friendship has invested in a more rigorous classroom curriculum that significantly raises the performance bar for students and educators. This enhanced instructional approach sharpens our focus on per pupil achievement and equips each scholar with a vast array of English language Arts, math, science and social studies textbooks and literary works. This level of individual student investment is the standard approach for independent and private secondary schools.
What strategies are you employing to ensure all your students graduate?  
From our IB elementary and middle schools to our Early College and STEM-immersion high schools and character-education curriculum for pre-k to 8th grade, Friendship's focus on college readiness and character building permeates the entire school network. We deeply believe that every child – despite daunting odds – has the potential to achieve the extraordinary. Our administrators, teachers, classroom instruction, school facilities and extended-learning programs are designed to nurture this potential.  
What percentage of your graduating students head to college, the workforce or military? 
More than 90 percent of Friendship PCS graduates go on to pursue a four-year college or other institution of higher learning. We are proud of the more than 2,000 young adults who are Friendship alumni.
What advice would you give to others seeking to increase the number of students graduating from high school?  
Remain steadfast and committed to continually refining your school's approach to academic achievement. Identify those skills that both excite and propel your students toward breakthrough success. Research and analyze best practices from other high-performing institutions, and use this information to inform your own authentic approach to building life-long scholars. Most of all, be relentless in your pursuit of student excellence. Our children deserve no less than the very best this world has to offer.
Cesar Chavez PCS for Public Policy – Parkside High School
Chavez Schools Parkside High School is very proud of its results. They strategically monitor and support their students to ensure they have a plan to graduate with their classmates.  
Every Chavez scholar is monitored closely when they join the Chavez family. The college counselors are the primary advocates and monitors of a students' progress toward graduation. This is done by ensuring students and families are consistently updated on their current academic progress, devising an Individualized Learning Plan (ILP) after the students complete the 9th grade, providing home tutoring, offering an array of recovery options (after school, summer school, online programming), involving key stakeholders (students, parents, teachers, administrators), and consistently reminding all involved that high school success is key to college success, job security, financial independence, and the ability to support your community.
What percentage of your graduating students head to college, the workforce or military? 
On average approximately 69% of our student enroll in college within the first two years after graduation. In addition, many of our graduates who choose to join the workforce, do so in nonprofits, community based organizations and the local government. Less than 2% of our scholars join the military.
What advice would you give others seeking to increase the number of students graduating from high school?  
We would advise schools to invest in additional supports for all students, continuously seek ways to remove barriers and ensure that students and families know you are watching and waiting to help wherever necessary to ensure they walk across the stage.  
Washington Latin PCS – High School
Washington Latin's model has two essential characteristics that work for their students in helping them graduate at such a high rate. First, they have a highly personal model of education - small classes and overall small school size means that students are known, both as scholars and individuals. This allows their eachers to attend to each student's needs and keeps them from falling through the cracks. Second, their diversity brings together students from across the District and, as studies have shown, increases the achievement of low-income students who are more likely to come with a lower level of preparation and support at home. 
What strategies are you employing to ensure all your students graduate?
In addition to our model having a highly personalized approach, we have instituted more elements to intervene early in students' tenure at Latin and address their academic challenges. Our academic support program includes both in-school and after-school elements designed to extend our personalized approach to systematic interventions that catch struggling students up and keep them on track to graduate. We have also invested in Special Education support, with more faculty to address our growing SPED population (20% in the current 5th grade class). We have a robust college counseling function, now with two counselors, who work with students in the Upper School to focus them on the goal of college or other post-secondary opportunities (including military, gap year travel, etc.) Exposure to different college choices begins early and is also highly personalized, with college trips, college fairs, SAT/ACT preparation, and above all individualized counseling of each student to find the right fit. This keeps our students focused on how their work at Latin connects to their future.
What percentage of your graduating students head to college, the workforce or military? 
Nearly 100% of our students are accepted to college each year, and the vast majority choose to attend in that first year. We have had several students opt for military, either enlisting directly or attending a military academy (e.g. West Point and the US Coast Guard Academy). 
What advice would you give other schools/the city seeking to increase the number of students graduating from high school?
A high graduation rate is important, but so too is addressing individual student needs. We have found that some students will simply not be able to graduate in four years and thus we must plan for five years in their case. This might lower our four-year rate, but it is still important for these students to be successful.
This year marks the 20th year of public charter schools in Washington, DC.  We're proud of the steady progress public charter schools have made to guarantee that all students have access to a quality education, are ready for college, and prepared to succeed in the workforce.  
More students are graduating from high school in four years.