Highlighting #REDIforWellness Efforts at DC Public Charter Schools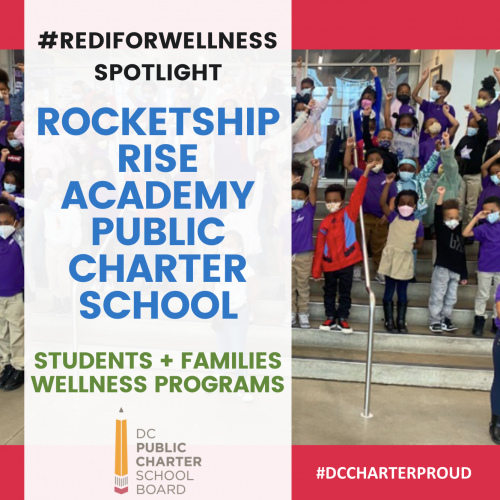 How does Rocketship DC encourage student wellness?
Student Wellness Survey: We [at Rocketship PCS] know that in order for students to thrive academically, socially, emotionally, and behaviorally, they need to first feel safe, connected, and supported. We are administering an 8-question survey 3 times a year that seeks to understand if our students feel physically and emotionally safe, connected to their peers and staff, and supported by staff to reach their potential. With this data, our schools have responded to students by creating action plans that seek to improve target areas and better the student experience.
This year we [at Rocketship PCS] prioritized social emotional learning (SEL) and increased the amount of time our students are spending with their classmates and teachers learning about social emotional skills and building a stronger classroom community. To support and encourage the utilization of these skills, classrooms have visuals that guide students as they express their feelings and regulate their emotions.
Rather than creating new opportunities, our schools have been increasing celebrations for student effort and accomplishments (e.g., Rocketship PCS - RISE created a "Mr. Lewis Award" named after Principal Lewis for Rocketeers who embody a specific core value).
What additional resources does Rocketship DC offer wellness?
We have an employee wellness program that helps to support our teachers and staff. The employee wellness program at Rocketship Public Charter Schools includes professional development to give our teachers practical tools for managing their social, emotional and professional wellbeing. Our teachers also have access to individual counseling services through a third party, and schedules that incorporate multiple breaks throughout the school day.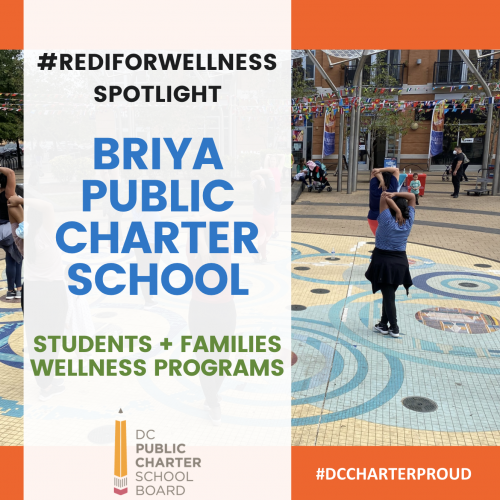 How does Briya PCS encourage student wellness?
Briya offers a wellness activity for #AdultEd students and staff during Friday classes! Activities range from Zumba to drawing to yoga. As parents, when adult students practice wellness activities themselves, they can also pass them along to their children.
This winter, Briya staff participated in a step challenge. Staff competed in teams to see who would get the most steps. Along the way they also completed small tasks, like photo scavenger hunts, to motivate everyone to stay active. Another step challenge is coming in April!
Briya also has a multilingual wellness WhatsApp group. We share a weekly wellness tip and prompt for adult students & staff. Last week, discussion focused on the health benefits of bananas, and everyone shared ways they like to prepare them—such as in a smoothie or on toast!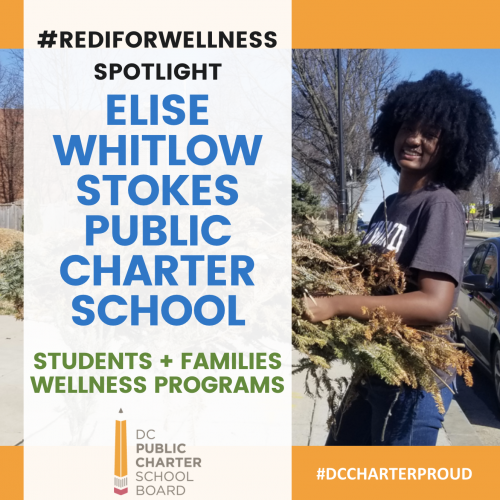 How does EW Stokes encourage student wellness?   
We continue to use the "Peace of Mind" curriculum in classes to develop mindfulness with staff and students alike. We have been part of this program for several years, and it continues to be a highlight for students in their week. For students, they learn techniques for mindfulness that they frequently turn to when things get stressful. For teachers, a number have pursued additional training with the program and even are seeking advanced training in assisting kids with mindfulness.
What have been some feel-good moments or highlights from the year?
Pre-K students have been discussing healthy bodies in their most recent unit of inquiry, and they identified things they need to stay healthy.
We continue to be very proud of our school gardens at each campus. This year, we have been fortunate to host two FoodCorps members. Last week, they worked outside with PreK students at the Brookland Campus to do "Plant Yoga" and learn their way around the garden.