High School Graduation Rates and Requirements
Graduation Requirements for DC Public Charter High Schools
Graduation Rates
Every public charter school offers rigorous graduation requirements.  Learn more about each school's graduation requirements and transcript audit policies.
Graduation rates are calculated by tracking the students who entered 9th grade and graduated from 12th grade within four or five years. And as part of its oversight, we verify that 9th-grade students are on track to graduate in four years and that 12th-grade students have met the school's graduation requirements. To learn more about the Transcript Audit Policy, click here. 
We also evaluate a school's performance on multiple measures, including 4- and 5- year graduation rates, which are both indicators of whether or not a student is ready for college or the workforce on its School Quality Report. The 2019 reports are available here.   
This year, 70.0% of students designated as "At-Risk" graduated in four years, an increase of 5.8% from last year. And the number of students with disabilities improved by 8.2% to 62.6%, while the number of Black students graduating increased by 5.8%.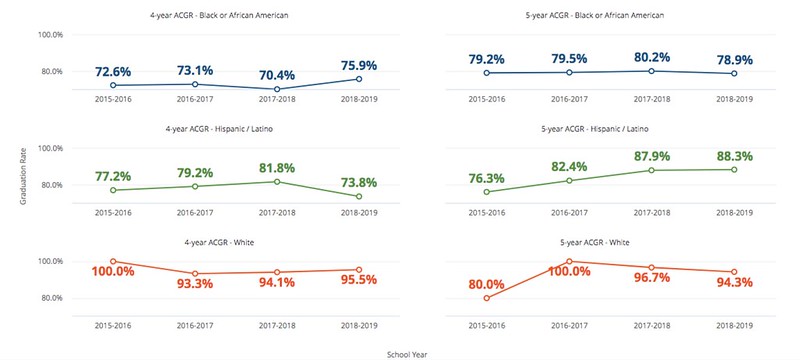 Learn more about each public charter high school's graduation requirements